ServoLab provides high quality rewinds as part of our servo motor repair service. High quality rewinds are a key part of our approach to servo motor repair, ensuring years of reliable service is achieved by our repaired servo motors across a wide range of applications and industries. Each stator is inspected and tested as part of our diagnostic process to establish the nature and scale of the failure.
We also check the winding insulation for damage or weak points, and if required will replace the insulation and the winding to eliminate these items as causes of the servo motor failure.
The stator of the servo motor creates the electric field which interacts with the magnetised central core of the servo motor, known as the rotor. The speed and direction of the rotation is dependent upon the strength and duration of the current fed into the stator winding by the drive. The rotation also drives the feedback device which provides positioning information to the drive allowing precise control over the servo motor position, torque and rpm.
The quality of the winding has a significant effect upon the reliability and efficiency of the motor.
A poor quality winding can cause a number of problems such as increased heat caused by the additional resistance within the system, higher power drain and ultimately failure.
With a properly wound stator, freshly magnetised rotor and replacement bearings, a repaired servo can be as efficient, if not more efficient than a ne w motor and will often be significantly cheaper.
ServoLab hold stock of all common bearing sizes and undertake winding and Vacuum Pressure impregnation of windings on site, and can therefore provide a much quicker service than the servo motor OEM who will often send motors overseas for repair, or simply offer an expensive new motor as an alternative.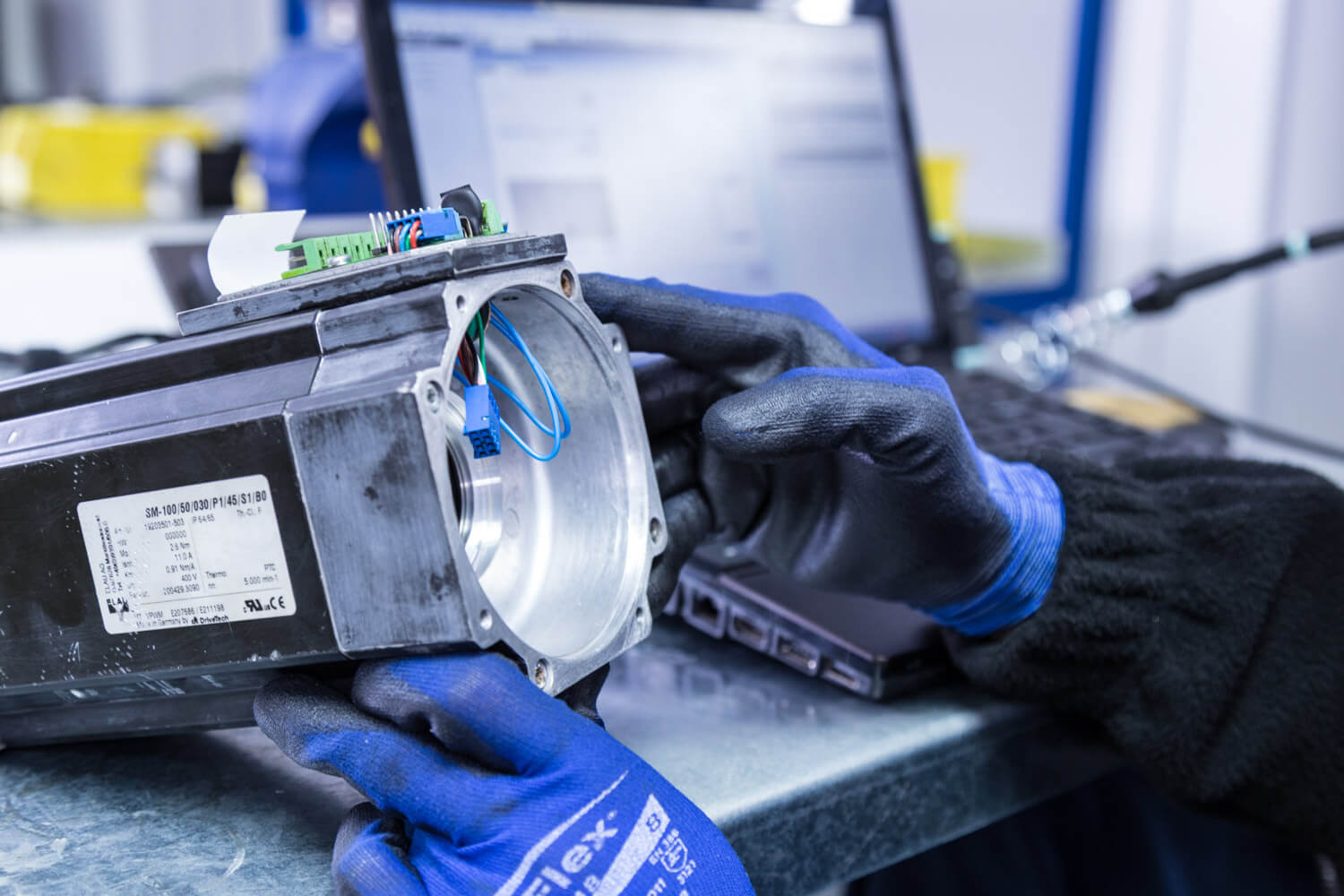 We have the following rewind facilities:
Burn off oven,


Vacuum Pressure impregnation tank


Winding station
With 25 years of rewind experience we are able to provide fast and reliable repair for all makes and model of servo motors.
Call one of our team now to discuss your requirements on 0161 865 6161