We know changing suppliers can be daunting, you might feel you are paying too much at the moment but is it worth the risk of making a change when the consequences could cost you even more?
Here at CPM Servolab we like to take the risk out of that decision, but don't just take out word for it, have a look at what our customers are saying before you join them and start saving time and money on your servo motor repairs.
Our focus is, and always has been on quality, and our philosophy of Test – Diagnose – Test – Repair has delivered proven results for our customers with 99.8%  of the thousands of repairs you can see on our Repair Register  working first time and continuing to work for at least two years and in most cases for much longer.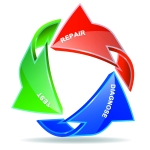 We believe that you simply cannot repair a servo motor unless you can test it, this is proven time and time again, usually by companies who cannot test the motors and as a result cannot identify the faults in the first place, let alone check if they have achieved a successful repair.
This forms the basis of our Test – Diagnose – Repair – Test philosophy , the first test is carried out when the motor arrives, identifying  all of the faults, this links into the diagnosis phase where we carry out detailed fault finding to pin point the causes of the failure.  Once these issues have been isolated we can carry out an effective repair, re-upload the original parameters and retest the motor to make sure it works as it should.
This process has proven effective for all makes and models of servo motors, and with our No fix/No fee quotations, and Free collection and delivery it won't cost you a penny to find out if we can succeed where others have failed. Give us a call for free now on 0800 032 8848 or check out our new website to arrange a collection .